What's Zumba?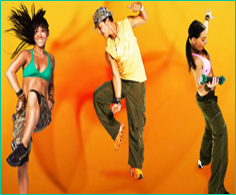 is like no other workout you will ever experience!
Zumba combines high energy and motivating music with unique moves and combinations that allow the Zumba participants to dance away their worries. It is based on the principle that a workout should be "FUN AND EASY TO DO" allowing Zumba participants to stick to the Zumba Fitness program and achieve long-term health benefits.
Zumba is a "feel-happy" workout that is great for both the body and the mind. Zumba is a fusion of Latin and International music - dance themes that create a dynamic, exciting, effective fitness system! The routines feature aerobic/fitness interval training with a combination of fast and slow rhythms that tone and sculpt the body.
Zumba utilizes the principles of fitness interval training and resistance training to maximize caloric output, fat burning and total body toning. It is a mixture of body sculpting movements with easy to follow dance steps such as: Merengue, Cha Cha, Mambo, Salsa, Reggaeton, Cumbia, Hip Hop, Bellydance, Flamenco, and Samba.