What's Chacha?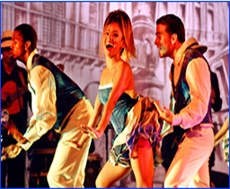 is the name of a dance of Cuban origin. It is danced to the music of the same name introduced by Cuban composer and violinist Enrique Jorrin in 1953. This rhythm was developed from the danzon by a syncopation of the fourth beat.
The name is onomatopoeic, derived from the rhythm of the guiro (scraper) and the shuffling of the dancers' feet.
Cha-cha-cha may be either danced to authentic Cuban music, or Latin Pop or Latin Rock. The music for the international ballroom cha-cha-cha is energetic and with a steady beat. The Cuban cha-cha-cha is more sensual and may involve complex polyrhythms.
Styles of cha-cha-cha dance may differ in the place of the chasse in the rhythmical structure. The original Cuban and the ballroom cha-cha-cha count is "two, three, chachacha" or "four-and-one, two, three". The dance does not start on the first beat of a bar, though it can start with a transfer of weight to the lead's right.