What's Salsa?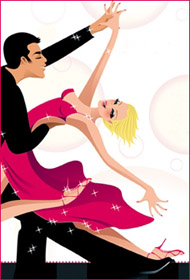 is a dance for Salsa music created by Spanish-speaking people from the Caribbean and their immigrant communities in the US. Salsa dancing mixes African and European dance influences through the music and dance fusions that are the roots of Salsa: SonGuaguanc?, Rumba, Boogaloo, Pachanga, Guaracha, Plena, Bomba.
Salsa is normally a partner dance, although there are recognized solo forms, line dancing (suelta), and Rueda de Casino where groups of couples exchange partners in a circle. Salsa can be improvised or performed with a set routine.
There are many styles of Salsa, the major styles are:
Salsa-on-1 (Los Angeles)

Salsa-on-2 (New York and Puerto Rico)

Cuban / Casino (Cuba and Miami)

Rueda

Cumbia (Central and South America)
Click here for a good description of Salsa from Wikipedia.