What's Rumba?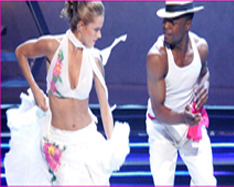 is a dance term with two quite different meanings. First, it means Cuban event of African style, organically related to the rumba genre of Afro-Cuban music. There are several styles of this rumba, the most common being the guaguanco.
Second, it refers to one of the ballroom dances which occurs in social dance and in international competitions. In this sense, rumba is the slowest of the five competitive International Latin dances: the paso doble, the samba, the cha-cha-cha and the jive being the others. This ballroom rumba was also danced in Cuba to a rhythm they call the bolero-son; the international style was derived from studies of dance in Cuba in the pre-revolutionary period.
All social dances in Cuba involve a hip-sway over the standing leg and, though this is scarcely noticeable in fast salsa, it is more pronounced in the slow ballroom rumba. In general, steps are kept compact and the dance is danced generally without any rise and fall. This style is authentic, as is the use of free arms in various figures. The basic figures derive from dance moves observed in Havana in the pre-revolutionary period, and have developed their own life since then.